What is hardwood?
It is believed that hardwood appeared in the Middle Ages (XIII-XIV). Perhaps this is the influence of antique marble floor mosaics, but made from a widely available material — wood. The main thing is that during this period in the houses of the nobility, the floors in the ceremonial halls began to be laid out with intricate patterns and whole paintings from wooden blocks of different breeds, sizes and colors. Since then, it has been one of the most beloved and prestigious types of flooring.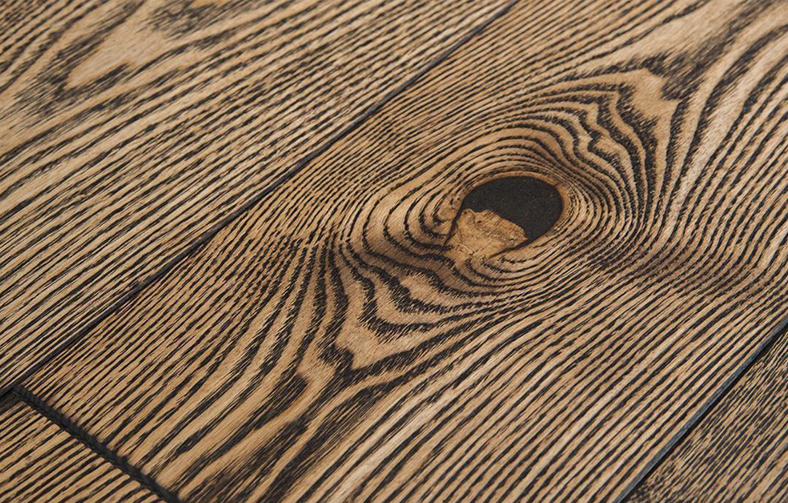 Advantages and disadvantages of hardwood
Wood is a material that perfectly demonstrates the classic triad of aesthetics – function, benefit, beauty.
The main advantages of a parquet floor:
durability and maintainability;
pleasant tactile sensations, hygiene, environmental friendliness, additional heat and noise insulation;
aesthetic appeal and the ability to create various ornaments and patterns.
Like any material, hardwood has disadvantages:
it burns;
it is easy to scratch, even the most resistant types of wood are quite easily damaged by impact;
in order for the hardwood to serve for a long time, you need careful maintenance, regular renewal of the protective coating, the use of special cleaning agents;
in order for the hardwood to serve for a long time, you need careful maintenance, regular renewal of the protective coating, the use of special cleaning agents;
laying should be entrusted only to specialists, a large amount of manual work — hence the high price.
Comparing the advantages and disadvantages of parquet, consumers choose the naturalness and natural beauty of wood, neglecting the preservation of the quality of the floor and the need for maintenance.
The best examples of inlaid parquet nevertheless delight us in the palaces of Moscow and St. Petersburg, Paris and Versailles, Vienna, Berlin.
Types and varieties of hardwood
Over the centuries-old history of parquet floors, several types of parquet coverings have been created:
Hardwood board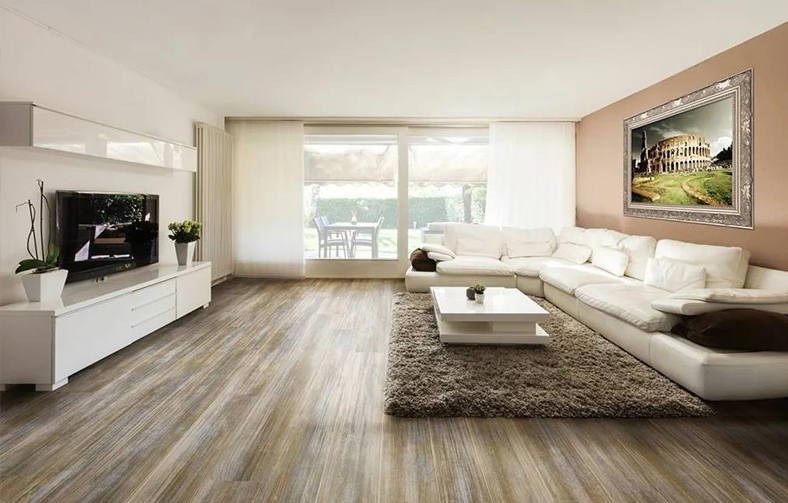 The simplest type of parquet floor was laid out of massive boards — an analogue of plank floors, but made of wood of valuable varieties. The boards can be rectangular or curved, exhibit the natural texture of wood, are durable and last a long time.
With the help of modern technologies, a more affordable type of hardwood board is made — two-, three-layer, when only the outer layer is made of valuable natural wood, which has a thickness of 0.5 to 6 mm. The thicker it is, the more scrapes it will withstand, so the longer the floor itself will last. The board can be of different widths: 1, 2 and 3 layers.
The lower layers are made of coniferous wood with perpendicular grain in the layers for greater strength and prevention of seasonal deformations. This hardwood board surpasses other analogues.
The basis of the board is 2 mm coniferous veneer or plywood, this is a protection against moisture. The layers are connected to each other with heat-treated glue.
Panel hardwood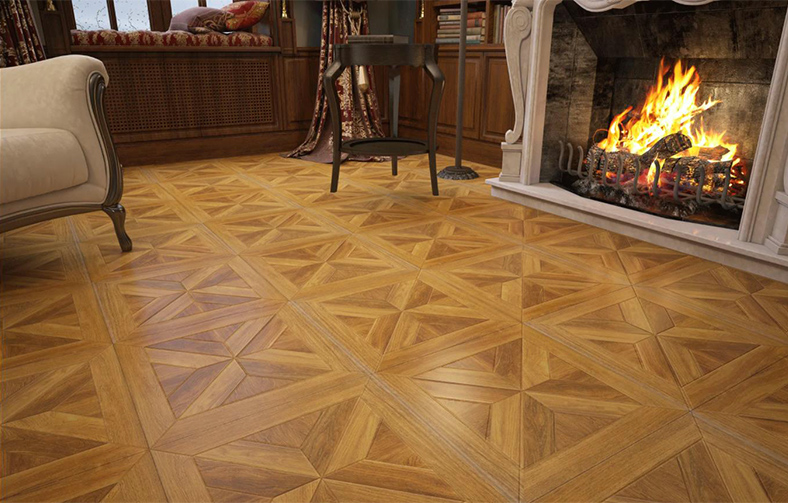 Panel board (modular) parquet boards are 2-layer panels of different sizes. They are varnished to protect the wood. Floor laying is greatly simplified, many patterns are possible.
In a modular version, each shield is a separate design pattern. Unique compositions are made from shields. In the manufacture of mosaics, inlay and marquetry techniques are used.
Block hardwood
The inlaid floor from individual parquet-rivets is called block.
In the laying patterns, 1-3 types of wood are used, as well as strips of different lengths and shapes. The rivets are connected with a tongue-and-groove fastening.
The most durable type of hardwood floor is the end one, made of end cuts of wood. It is rarely used, since it involves a large consumption of material, it is suitable for gyms, cycle tracks — where strength and durability play a decisive role.
Inlaid hardwood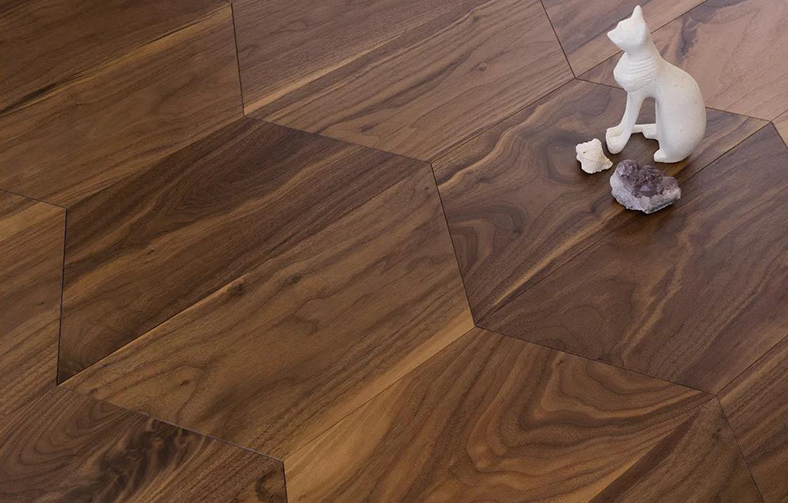 Inlaid or mosaic parquet is represented by separate planks of different shapes and sizes, laid in a square according to a certain pattern. This is the most beautiful and expensive option. It is typical for palace complexes and large public spaces.
Hardwood grade
Parquet grade determines the way the wood is cut and its density.
The following varieties are distinguished:
Select
It is considered the highest quality variety. It is made of wood with a radial cut, strictly perpendicular to the annual rings, giving the rivets uniform color. There are no knots and sapwood on such a board. In this case, not significant deposits of minerals are possible.
Radial
Grade with a radial cut, but a minimum cut incline is possible. The product is of high quality also without sapwood and knots, with an even color, but with mineral deposits up to 60%.
Tangential
A premium grade that is cut tangentially to the annual rings, resulting in a wavy, arched pattern.
Standard
It has a mixed cut, differs from the previous ones by the presence of a slight difference of shades.
Natures
It is characterized by mixed sawing, presence knot, sapwood and natural shade differences.
The last two varieties are used in the production of hardwood board.
Types of wood and degrees of hardness
The face layer of all types of parquet is always made of hardwood. To give additional hardness and resistance to wear, the wood is subjected to heat treatment, which simultaneously changes the color of the wood (before and after exposure).
In the USA, oak and ash parquet is most often used in interiors. Of the local wood species, these are the most durable types light beige natural oak and darker — stained and honey-yellow ash. Larch and Karelian birch are good in characteristics, but warty birch is less wear-resistant.
Other types of wood used now and in interiors:
merbau;
oak;
walnut;
ash;
beech;
mahogany;
maple;
massaranduba;
zebrano;
wenge;
cherry;
elm;
ipe;
kempas;
bibunga.
The hardness of the main types of wood species is given in the table:
Merbau wood has the greatest hardness, not without reason called iron wood. Softwoods such as larch and pine are rarely used when laying parquet.
Hardwood classification
According to the cut pattern, the parquet board is classified as follows:
Select — has a small drawing;
Natures — is a repetition of a pattern with the presence of small knots;
Guest — with mixed contrasting cut;
Classic — has a textured structure;
Universal — is distinguished by an uneven pattern with the presence of small knots;
Antique — demonstrates the variability of the pattern and uneven color.
Harwood manufacturers can enter their positions into a generally accepted classification.
Hardwood riveting dimensions
The size range of inlaid parquet riveting is varied, but the most common panels are 500×45, 75×15, 22 mm in size.
Shield format
Shields are made in a square or rectangular shape with a side size of 40 to 80 cm.
Hardwood board dimensions
The dimensions of the parquet board vary from 70 to 300 mm in width, 300-4000 mm in length. The thickness depends on the number of layers: 2 layers 9.5-12 m, 3 layers 14-20 mm.
Chromaticity
According to the main colors, 6 groups of rocks can be distinguished:
White, yellowish — birch, spruce, maple, beech, ash, linden, hornbeam, pine, fir, aspen, larch, lemon, acacia, elm;
Brown — oak, pear, palo sonto, Karelian birch, alder, poplar, plum, chestnut, mountain ash, cedar, acacia;
Golden brown — iroko, teak, olive, bamboo, cherry, balsamo, kempas, zebrano, kumparu, apricot, walnut, cherry, apple tree;
Red-brown — merbau, sycamore, mahogany, turbidity, doussia jatroba, makore, maraupla, sapele, yarra, gonkapo, yew;
Pink, red, purple — paduk, amaranth, bubinga, pinkada, rosewood, kurupai, plane tree, laurel cherry, rosewood;
Dark brown, black — walnut, laurel, ipé, wenge, wenge-milleti, kingwood, palm, macassar, ebony;
The color of the wood depends not only on the species, but also on the age of the tree, as well as the place of growth. The color changes during heat treatment, bleaching, brushing, varnishing. Stacking rivets of the same breed in different directions also gives different shades.
Styling drawings
With the help of the drawing, you can visually adjust the configuration of the room, give it individuality or a solemn look.
Basic styling patterns:
Deck
It is mounted on a tenon-groove, the rivets are laid parallel to each other, staggered with displacement of the end seams. The direction depends on the incident light — parallel to the short wall of the room, or diagonally. Deck stowage can be single, double or triple.
Herringbone
The most popular classic type of styling, and there are many options for it (straight, diagonal, French, with inserts, with sawed corners, and these are not all types).
Checkers
A peculiar pattern of squares, rhombuses or trapezoids. In one ornament, you can combine riveting of different types of wood, color or shape. For rooms of a small area, it is recommended to use one color and texture of wood; in spacious rooms, using a pattern and color, it is easy to highlight different zones.
Network
It is made of dies of 2-3 shades, it looks elegant due to the combination of rectangles and squares in a contrasting color.
Rhombuses
Rhombuses from different textures and colors look catchy, so it is recommended to use them as a complement to the main drawing.
Producing countries
The parquet market is filled with products from Europe, Asia, the USA and other countries. The most famous and popular brands are from Sweden, Finland, Italy, Germany, Poland, US.
Companies Kahrs and Tarkett (Sweden) offer various types of parquet and boards from standard to elite class, from natural and exotic wood species for our climate.
The woodworking corporation Upofloor (Finland) produces high-quality hardwood flooring at an affordable price from traditional and exotic wood.
The Polish brands Barlinek and Eco Parket offer a wide range of parquet floors at low prices, including those with an exclusive design.
Italian companies focus on stylish Italian design that combines aesthetics and quality.
The French company Panaget with a hundred-year history of wood flooring produces flooring materials of the highest quality.
Interior styling with parquet floors
The choice of pattern and size of the dies should correspond to the overall design solution of the room.
For modern classics in spacious rooms, almost any way of laying hardwood under varnish or wax is suitable.
For minimalist styles, country, loft, a dark large-sized parquet board with brushed and oil coating is more appropriate.
Tips for choosing hardwood
For the correct choice of wood material, grade, type of parquet, it is worth considering the style of the room design, general color, and lighting.
A light floor will make a small room visually more spacious, laying across the flow of natural light will expand a disproportionately narrow room.
A light floor will make a small room visually more spacious, laying across the flow of natural light will expand a disproportionately narrow room.
The advantage of the material is:
naturalness;
the presence of lock connections;
moisture resistant types of wood, less prone to deformation.
For a room with a high throughput, a floor made of extra strong solid wood is needed — exotic merbau (ironwood) and bamboo, traditional oak and ash. It's also recommended for pet owners.
Hardwood flooring installation procedure
Parquet requires a perfectly leveled base, so preparatory work takes a lot of time.
When laying on prefabricated reinforced concrete slabs, a monolithic self-leveling screed with a thickness of 4 cm or more is performed. The base is preliminarily cleaned of debris and primed with an adhesive compound.
After drying (at least 4 weeks), an interlayer of moisture-resistant plywood is mounted on the screed.
Hardwood strips are laid on plywood on glue according to the selected pattern, connecting them into a groove-comb, and additionally at the ends with nails.
If waiting for screed dry is too long, it is possible to lay the hardwood on the logs — boards laid on the end and fixed on the dowels to the concrete base. The horizontal of the top of the lags is adjusted to the level. Unevenness in the base is leveled by wedges made of wood scraps.
Moisture-resistant plywood is laid along the logs, securing it with self-tapping screws.
Riveting is done in the same way as in the previous case.
The finished piece hardwood without an additional finishing layer is cycled, polished, dedusted, covered with a finishing layer of varnish, wax or oil.
Parquet floors with a finished topcoat do not require additional finishing, if there are no accidental defects, then scratches, individual potholes, cracks are repaired with a special putty and tinted to match the overall color.
Features of hardwood care
Regular maintenance will extend the life of this demanding flooring.
The front surface of a parquet floor can be sanded or brushed, varnished, waxed or oiled.
General rules:
Wood is subject to temperature and humidity deformations, therefore, the temperature should be maintained at 15-25C, humidity from 45 to 60%. At high values, the floor may swell, at lower values, cracks will appear as a result of shrinkage;
Wash the floor for the first time not earlier than 2 weeks after installation;
Protect from the sun — put a carpet on the faded area, shade with furniture, and over time the color will be restored.
Care also depends on the type of coverage.
Varnished floor:
can't be washed more often 1-2 times a week;
furniture legs should be covered with felt pads;
for cleaning, you can use a steam cleaner with a minimum steam output;
remove stains with products without ammonia in the composition.
Oil covering:
periodically update locally damaged areas;
apply a new coating after a few years;
do not use steam.
This type of flooring is most typical for country-style interiors and loft. It perfectly protects wood from moisture, rot, blue and pests.
Waxing:
steam must not be used;
periodically wax the entire surface.
The wax can be solid, liquid, or in the form of a paste, in either case it provides durability to the floor.
Despite the high cost and the availability of many alternatives, hardwood remains one of the most popular types of flooring. Natural beauty and environmental friendliness are its unsurpassed qualities.